He began his musical studies with Jordi Albareda (piano) and Jordi Torra (harmony, counterpoint, composition) and studied in Germany and Switzerland with Paul Baumgartner and Sava Savoff (piano), Hans Ulrich Lehmann and Klaus Huber (composition) and Jürg Wyttenbach (performance in contemporary music). He lived in Basilea until 1982, and there he worked as a composer, pianist and teacher.

From 1971, the year in which his work Styx received the prize in the Barcelona International Festival, his works have received prizes around Europe, for example in the International Festivals of Lucerna (Switzerland), Gaudeamus Musikwoche (Netherlands), Europalia-85 (Belgium) and Barcelona (1987), where took place the first performance of Confluències (Música per a Santa Maria del Mar). He won the prize Hans Lenz to the artistic merit (Germany) and the composition prize of Landis & Gyr Foundation in 1976.
For Chamber ensembles
For Orchestra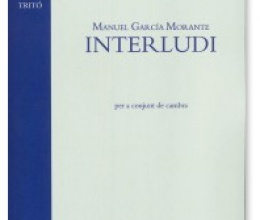 Tritó Edicions is pleased to present the new collection of chamber music scores. Titled Música Breu, it consists of a series of short Spanish pieces for chamber orchestra.  In December the following titles were published, which you can obtain ...
Read more