Manuel Garcia Morante, composer and pianist, was born in 1937 in Barcelona, where he studied at the Conservatori Superior de Música del Liceu, later furthering his studies in Paris. He worked on his vocal repertoire with his wife, the mezzo-soprano Myriam Alió, who did the first performance of his harmonizations of traditional Catalan songs and recorded a CD of Sephardic songs.
For many years he toured the world with Victòria dels Àngels, Carmen Bustamante and Conxita Badia.
Since 1979, he has focused on composition. He has composed five operas:
El príncep i el paradís
,
Violeta
,
Las hijas de Bernarda Alba
,
María Estuardo
and
Orfeo i Eurídice
, in addition to 554 lieder, of which 243 are harmonizations of traditional Catalan, Asturian, Sephardic, Mallorcan, Andalusian, Japanese, Cantabrian and Irish songs. His catalogue also includes numerous works for piano and for guitar, symphonic works, cantatas, masses, chamber music and choral music.  
He has taught vocal
repertoire at the Conservatori Superior Municipal de Música de Barcelona and the Liceu Conservatory.

On the occasion of its 700th anniversary, the University of Lleida, along with the Tritó publishing house, commissioned him to edit and revise Enric Granados' works for voice and piano.
Works
Manuel García Morante
For Chamber ensembles
For Orchestra
Solo Instrument
Others
Latest News
Manuel García Morante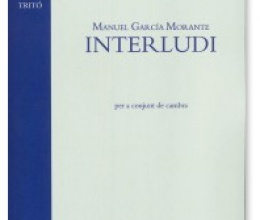 Tritó Edicions is pleased to present the new collection of chamber music scores. Titled Música Breu, it consists of a series of short Spanish pieces for chamber orchestra.  In December the following titles were published, which you can obtain ...
Read more
The pianist and composer Manuel Garcia Morante is known for his interpretations of Catalan and Spanish lied, especially for his edition of Enric Granados' songs. Garcia Morante's newest score for Tritó is Sonata No. 2 for guitar. The piece was ...
Read more