Barcelona ( 1931 - 2017 )
His family went into exile to Santiago de Chile in 1940 as a result of the Spanish Civil War. He himself returned to Barcelona in 1954 to join what was known as the '51 Generation and began his studies with Cristòfor Taltabull - though he really should be considered a self-taught composer. He quickly became associated with the neo-classic tendencies of composers such as Bartók or Stravinsky, and a short time later he was also to follow those of the Viennese School. He wrote Cantata d'amic e amat (Cantata of friendship and love), which incorporates serialist techniques, in 1959. His music has been widely recorded.
...
Latest news
Interludi (amb música antiga)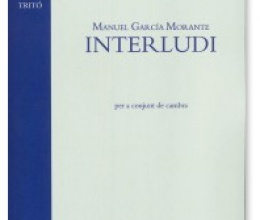 Tritó Edicions is pleased to present the new collection of chamber music scores. Titled Música Breu, it consists of a series of short Spanish pieces for chamber orchestra.  In December the following titles were published, which you can obtain ...
Read more