Alter Klang by Benet Casablancas in Holland, Belgium and Sweden
Written by Leticia Martin
Friday 9th January 2009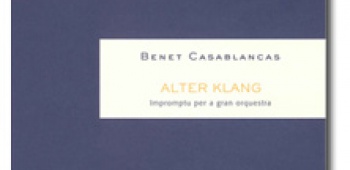 The Dutch youth orchestra, Nationaal Jeugd Orkest, conducted by Reinbert de Leeuw, has chosen the work Alter Klang by Benet Casablancas for its January concert tour, which takes it to the cities of Amsterdam, Rotterdam and Utrecht in Holland and Antwerp in Belgium. This work consolidates Benet Casablancas' place among the most internationally acclaimed Spanish composers.
Alter Klang (Antique harmonies) refers back to a well-known painting with the same name by Paul Klee. The composer brings a broad spectrum of sustained rhetorical resources and synesthesiae into play, which emerged in the adaptation of the pictorial language to music.
Composed in a sole movement for large orchestra it has received chamber music treatment on various occasions. It is dedicated to Josep Pons, who conducted the premiere at the Auditorio Nacional de Madrid in 2007. This same conductor will perform it in Malmö (Sweden) with the Malmö Symphony Orchestra in April.